We were lucky to be invited to Leeds Civic Hall for the 10 year celebration of Leeds becoming a Fairtrade City.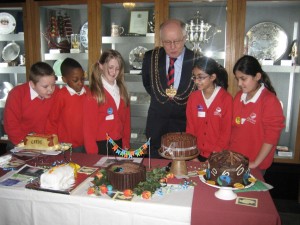 We inspected the cake competition entries with the Lord Mayor and had a photo opportunity with M.P. Hilary Benn.
But best of all Erin won the competition to design a birthday card for our cities celebrations. Here she is being congratulated by M.P. Fabian Hamilton.
Oh, and I nearly forgot, we had to eat lots of Fairtrade cake. Well it would have been rude to say no when people had put in all that effort! Thank you for a fantastic afternoon!